We Provide English Master Courses to you for preparation of Odisha High Court ASO and Junior Steno Exam in affordable price. You can purchase our this Master Courses and Prepare from this. And fulfill your dream by crack this Job. You can prepare. You can cover all English syllabus from this study materials.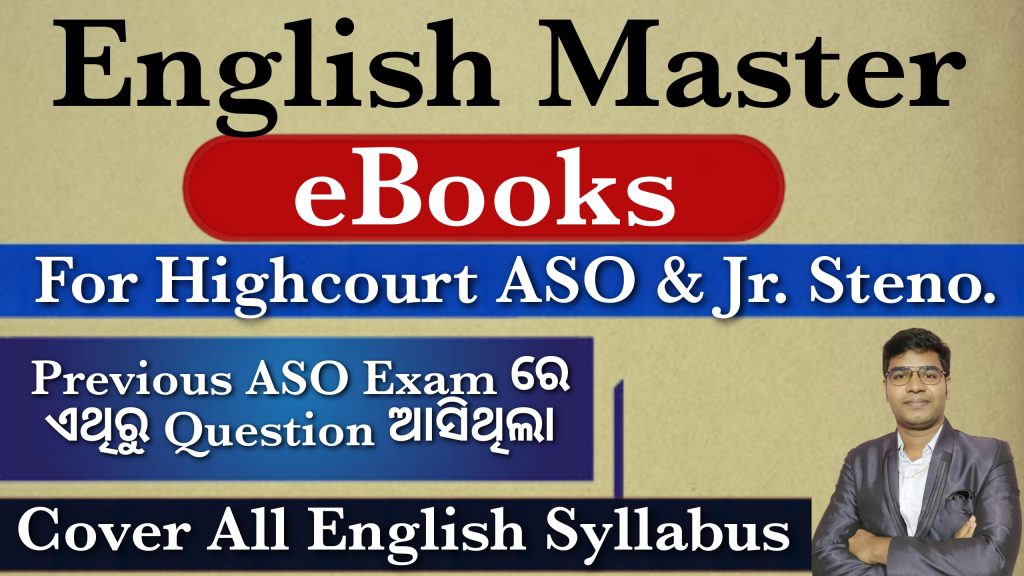 List of Books is available in this Master Course:
English Essay and letter/Application E-Book (2 Books)
English Vocabulary writing E-Book
English- Odia- English Translation E-Book
English Precis Writing E Book (2 Books)
English Grammar with MCQ E-Book
English Comprehension Writing E Book
15000+ MCQ ENGLISH TEST BANK
Note: All E-books are available in PDF format
Now. Only Rs. 99/-
Before Buying this book follow this process: Click Here
Note: This -Books are provided PDF format only, after payment don't press on done wait some time & you can download these books.
Notice: Payment ପରେ eBook ର Download ଲିଙ୍କ ଆପଣଙ୍କର ଦ୍ଵାରା ଦିଆଯାଇଥିବା Email କୁ ପଠାଇ ଦିଆଯିବ 5 ରୁ 10 ମିନଟ ଭିତରେ.
ତା ପରେ ଭି ଯଦି eBook Download କରିବାରେ କିଛି Problem ହେଲା ଦୟାକରି ଆପଣ ଯେଉଁ Email ID ଦେଇଛନ୍ତି ସେହି Email ର Inbox Check କରିବେ ସେଥିରେ ଗୋଟିଏ Receipt Email ଯାଇଥିବ ଆମ Payment Portal ରୁ ସେଥିରେ ଆମର Contact Details ଅଛି ଆପଣ ଆମକୁ ସେହି Mobile No & Email ID ରେ ଯୋଗଯୋଗ କରି ପାରିବେ I
Notice: ଦୟାକରି Purchase କରିଲାବେଳେ ଅପାଙ୍କର ସଠିକ Mobile No ଏବଂ Email ID ଦିଅନ୍ତୁ
IF any problems to Download the Book, Don't worry we will help you. after purchasing a mail has been sent to your Email Id. Our Contact details is there. You can contact with us.